Thanks to Shell for coming up with another fun link-up for Rockin The Baby.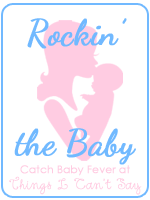 Lanagan was born in September of 2007, weighing in at 6lbs 9oz.
The doctor kept telling me throughout the end of my pregnancy that I was going to have a big baby. When he came out 6 pounds, we all were kind of shocked.
After a 3 night stay, it came time to get the little man dressed in his own clothes to go home.
My mom actually knew the sex during my pregnancy – even though we didn't – so she made a little boy sweater for his going home outfit.
It didn't quite fit. At all.
Like I said, we were expecting a big baby. Slight resemblance to MC Hammer with his pants. Fortunately it was really warm out so he went home in a onesie instead.
Lanagan taking first nap in his crib at home, surrounded by little stuffed bees.
This is how we dressed him for his first night at home.
Even though it was 90 degrees, we swore he needed a hat. A Winnie the Pooh fleece hat nonetheless. I look back at these pictures and I'm still shocked they let us leave the hospital with him.
You can see he wasn't very pleased with this whole ensemble either.
A few years later, in December of 2009, along came Cooper.
He was a perfect little boy with chubby little cheeks.
He weighed in at 8lbs 11 oz. Slightly bigger than Lanagan. At least this time the sweater would fit.
The poor little guy remained nameless for almost his entire hospital stay until we finally agreed to Cooper on day 4.
The first time Lanagan and Cooper met each other. Yes, Charlie is wearing the same shirt he wore on the day we had Lanagan. We're cheesy like that.
Our first night at home as a family of four. The boys in matching pajamas sitting by the Christmas tree. My little Norman Rockwell moment.
Until Lanagan tried to climb in the rocker with Cooper. Then it was back to chaos as usual.
Can't wait to see all the other Rockin The Baby photos!